What is a Direct Buy?
One of the options we offer our advertisers to purchase traffic with is our Direct Buy option. This traffic buying method is what our company was originally founded on, and from there we grew into one of the largest ad networks in the industry! 
Our Direct Buy option allows you to buy a specific adzone, on a specific site, for a specific amount of time. You can purchase the adzones for 7, 14, or 30 day time periods. For these purchases, you are charged one flat rate and only your ad will appear in that ad space (unless otherwise specified)
Each site in our network with adzones available for sale has a "profile page" which you will view and use to determine if this site is right for your offer. From this profile page, you will be able to view the following:
    Site Alexa Ranking
    Site Niche
    SIte Content Rating: Hardcore, Softcore, Non Nude, or General/Non Adult
    AdZone Size, Zone Details, and Sample URL's where your ad would appear.
    Zone Rules (if any): Example: No Animated Images/.gif files, Non-Adult offers only, etc.
    Zone Statistics: Top Performing Ad daily click count, Average ad daily click count, Estimated CPC, CTR, & CPM
    Zone Impressions for the last 72hrs
    Adzone Device Stats: i.e. Percentage of Desktop, Mobile, Tablet, and Console Traffic
    Geos of traffic to the adzone: Top 6 listed countries that tend to visit that adzone
Example Site Profile for JuicyAds.com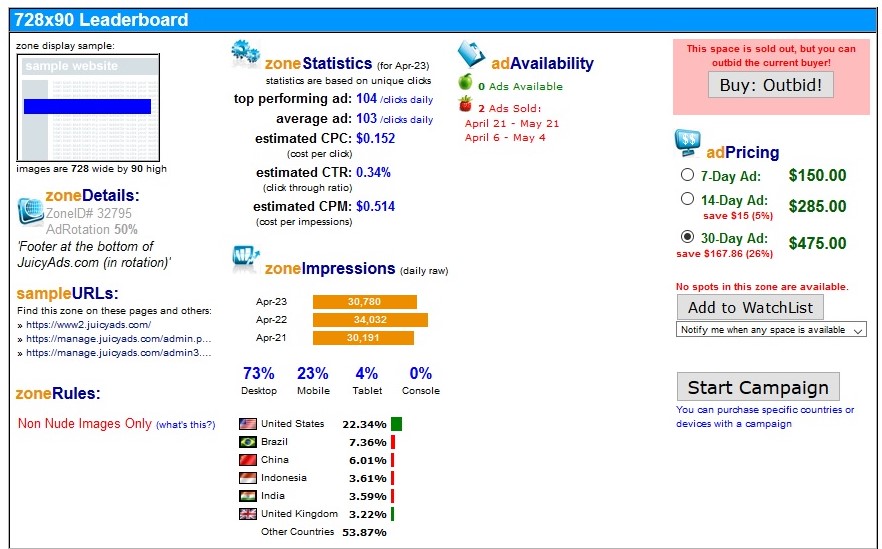 To Purchase an ad directly, please view our marketplace Here and use our filtering options on the left hand side to narrow your search to find a website/zone that works for you. 
OK, I found an adzone that works for me, how can I purchase it?
Once you have found an adzone that you have decided you want to purchase, the next step obviously is to buy it! 
You will select how long you want your ad to run (7, 14, or 30 days) and click the Buy Now Button. 
Once you click the Buy Now Button, you have not yet purchased your ad. You still need to provide us with a few more minor details before your ad goes live such as:
  Link URL: This is the URL you want your ad to link to
  Upload your banner creative: You can upload more than one image, but you will have to manually select the image you want displayed at any given time. Direct Buys can't rotate images.
     Turn on/off auto-renewal: If you want to renew this spot indefinitely, please make sure to set "AutoRenew On". The space will automatically renew from your account balance until you cancel it. 
     Click "Buy Now" and BUY YOUR AD!

What if the adspace I want to buy is already SOLD OUT!?
Since alot of ad space is currently sold you will see that the adzone is "Sold Out". This does NOT mean that you can't buy it at all! If this is the case, please click here to read about our OUTBID Auctions!