What is an OutBid Auction?
Often times you will find an adzone that is absolutely perfect for you, only to then notice that it says: SOLD OUT! Fear not, this does NOT mean that you cannot eventually purchase this adzone. Simply click the "Buy: Outbid!" option to bid on the adzone for when the current ad expires, and becomes available again. 
The Outbid option is our demand-based auction marketplace. When an ad is sold out, other advertisers may want the space, and are willing to pay more for it than the current advertiser. Here is how it works: Advertisers who choose to Outbid start an auction for the spot. The current advertiser can bid against the new advertisers. The winner will get the ad after the current advertisers time expires.
Can anyone bid in an Outbid Auction?
Unfortunately not everyone can participate in our Outbid Auction. In order to place an outbid auction bid you must: have a Feedback Rating of 100 in order to participate. If you have a rating below 100, unfortunately you will not be able to participate in the outbid process. If you feel this is an error OR  are only interested in the one adspace and cannot find another zone that is available, please contact one of our support reps.
Once you are able to participate in Outbid Auctions:

If you clicked the "Buy: Outbid!" button and you want to outbid on a zone, you will be taken to a page that looks like this: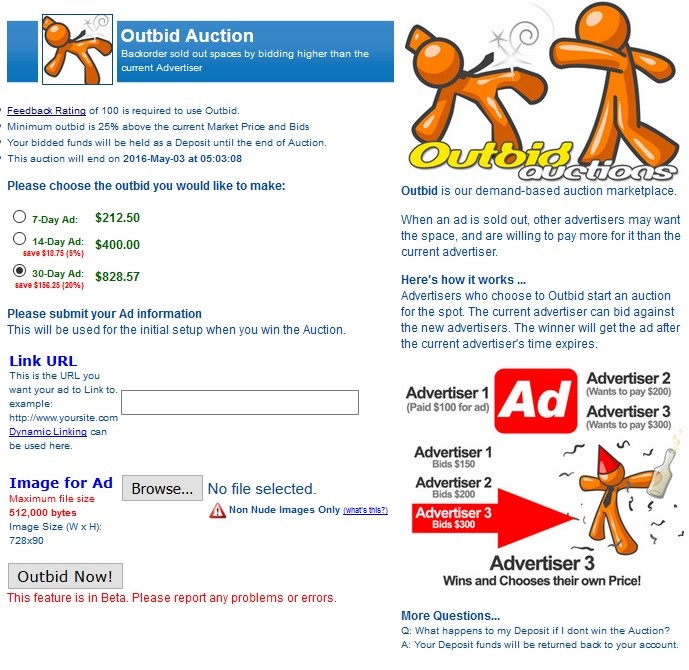 Once here, you must choose if you want to outbid on the ad for 7, 14, or 30 days. In some cases, based on the current buyer settings, you will only have the option to purchase the zone for one time frame.
You must bid at least 25% above the current Market Price or Current Bid in order to place your bid
Provide us with a Link URL which is the URL you want your ad to link to
Finally upload your banner image.
Once you have provided us with a link and image for your OutBid Auction, click the "Outbid Now!" button to place your bid. You will be notified via email if another advertiser then "Outbids" you, and you have the choice to either place a higher bid, or do nothing and simply allow the other advertiser to buy it. 
You have until about 48hrs before the current purchased ad expires before the auction is over. You will be provided with the exact date and time of the auctions expiration.
Your bid will be held as a deposit until the auction is completed. If you don't win the auction, your deposited funds will be returned back to your account balance.