Language Targeting allows you to target the language settings of the surfers web browser.To edit your language targeting, from inside your campaign, click on the "Advanced Targeting" tab and then click on the "Language Targeting" option. By default, all languages will be targeted. You can remove any languages you no longer wish to receive traffic from.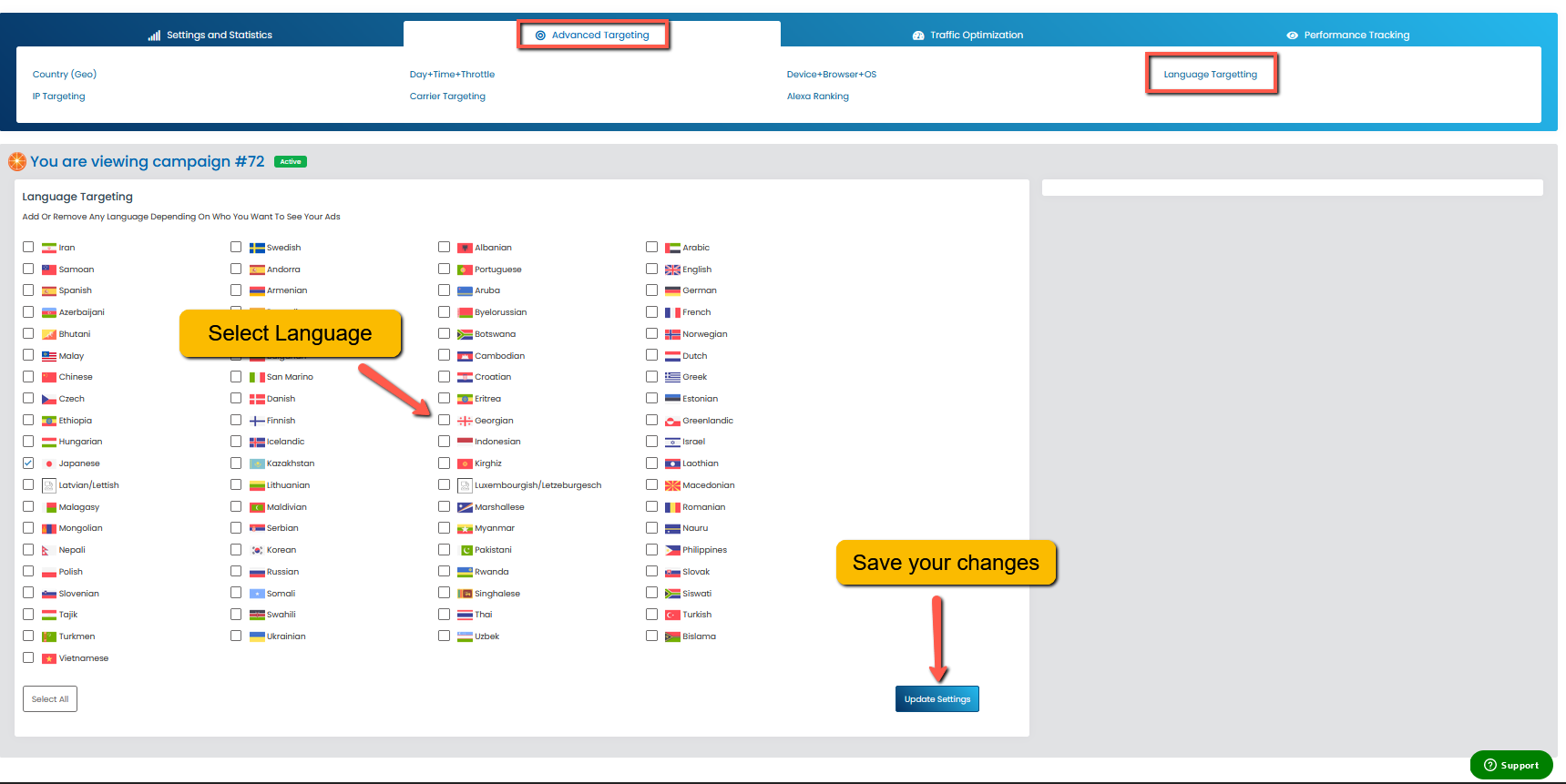 The following languages are available to target:
Arabic, Albanian, Armenian, Azerbaijani, Belarusian, Bengali, Bislama, Bosnian, Bulgarian, Burmese, Catalan, Chinese, Croatian, Czech, Danish, Divehi, Dutch, Dzongkha, English, Icelandic, Estonian, Finnish, French, Georgian, German, Greek, Hebrew, Hungarian, Indonesian, Italian, Japanese, Kalaallisut, Kazakh, Khmer, Kinyarwanda, Kirghiz, Korean, Lao, Latvian, Lithuanian, Luxembourgish, Macedonian, Malagasy, Malay, Marshallese, Mongolian, Nauru, Nepali, Norwegian, Oromo, Panjabi, Persian, Polish,Portuguese, Romanian, Russian, Samoan, Serbian, Sinhala, Slovak, Slovenian, Somali, Spanish, Swahili, Swati, Swedish, Tagalog, Tajik, Thai, Tigrinya, Tswana, Turkish, Turkmen, Ukrainian, Urdu, Uzbek, Vietnamese
If the language you want to target is not listed above, unfortunately we are not able to target it at this time.